Taking on an apprentice is a big decision, especially if you haven't hired one before. In this guide, we'll help you gather the information you need to make an informed choice about whether taking on an apprentice is the right business decision for you.
We've crunched the numbers and gathered independent research to answer two key questions our employers ask most: what are the costs of hiring an apprentice, and what is the average return on investment?
The Value of Apprenticeships
It can be tricky to quantify the benefits that an apprentice can bring to a business, but independent modelling from the St Martin's Group recently arrived at an estimate. According to their research, the typical productive contribution from an apprentice can be valued at between £33,759 and £49,500 per year.
This can be a useful figure to keep in mind when calculating the costs of apprenticeship training.
Apprenticeships also bring with them other benefits: they address skills shortages, increase diversity in your team, and can improve the public perception of your brand.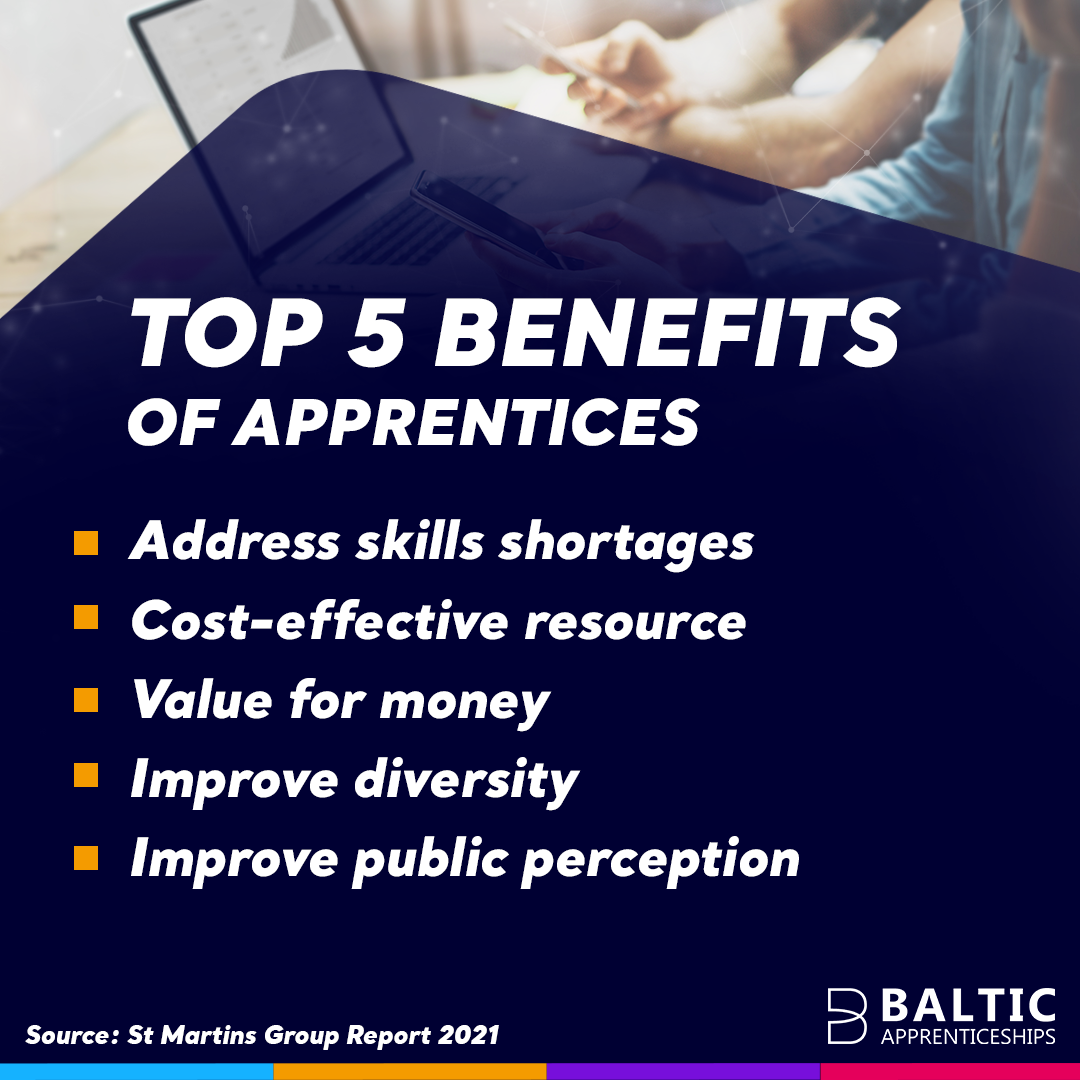 Salary Costs for an apprentice
Currently, minimum wage for an apprentice stands at £4.81 per hour, but we recommend paying higher than this figure.
The wage you offer can depend on a range of factors, such as the size of your business, your location, your access to funding, and the nature of your apprentice's job role.
Independent research found that the average apprenticeship wage was £17,278. This is similar to the Living Wage and the salary offered to other kinds of junior employee, such as recent graduates in entry-level roles.
Offering a higher apprenticeship wage can help your apprentice feel valued in their role, making a positive impact on productivity and retention.
Find Out More: Our Apprentice Wage Recommendations
What are the costs of apprenticeship training?
Apprenticeship training costs depend on the programme you choose, the training provider you work with and the size of your organisation.
Digital and technology apprenticeship programmes are worth up to £15,000, but many small and medium sized organisations will only pay between 0% and 5% of the total cost, with the rest fully funded by government grants. This can make apprenticeship courses a great value training option.
For larger businesses who pay into the Apprenticeship Levy, the cost of training is deducted from your levy account each month. The Apprenticeship Levy is a ringfenced fund specifically created for apprenticeships, and lots of larger businesses often don't realise they have funds reserved and ready to go!
Are there hidden costs to hiring an apprentice?
Outside of wages and training fees, there can be a few additional costs for employers to be aware of. You might wish to factor in staff time for mentoring and management, and travel expenses or uniform costs if applicable. Some apprenticeship training providers may also charge apprenticeship recruitment fees.
Below, we'll take you through the most common additional costs:
1. Staff Time for Managing an Apprentice
Mentoring an apprentice is a rewarding activity which can help hone leadership and management skills, but naturally this extra responsibility can have an impact on your mentor's time and productivity, especially in the early stages of the programme when your apprentice is learning the ropes.
It's important to be aware of this commitment before your apprentice begins their programme, so that you can ensure they will have the support they need within the team.
2. Apprentice Recruitment Fees
Research from the St Martins Group found that the average cost of apprentice recruitment was £1400, and 73% of businesses who participated in the research had incurred these costs.
At Baltic Apprenticeships, our apprentice recruitment process is entirely free of charge.
Read More: How to Recruit an Apprentice
3. Expenses & Travel Costs for Apprentices
Travel expenses for apprentices include the cost of traveling between customers or sites – just like any other employee – but can also include expenses incurred by apprentices traveling to attend their training in a face-to-face classroom environment.
The average employer spends around £2100 on travel expenses for their apprentice.
These costs can be cut by choosing a training provider that delivers their training online. As a tech and digital training provider, we deliver all our training remotely through our SMART Classroom, an innovative remote learning platform.
Apprenticeship Grant Schemes
To support with the costs of employing an apprentice, there are funding options available through central government, local authorities, and corporate Levy transfer schemes. This includes a £1000 grant for employers who take on a young apprentice.
Find Funding: Check Out Our Complete Guide to Apprenticeship Grants
How Cost-Effective are Apprenticeships?
The average cost of an apprentice amounts to approximately £32,000 – covering wages, training, and other expenses that may occur.
However, these costs are offset by the economic value an apprentice can bring to the team. The St Martin's Group researchers found that the average apprentice generated a net benefit of £2,496 during their training period alone.
Find Out More
Apprenticeships have a clear positive impact on skills and productivity, generating real value for your organisation.
More businesses than ever are waking up to the power of apprenticeships and realising the value they can add across different sectors.
If you are looking to grow or develop your IT, Software Development, Data or Digital Marketing teams through apprenticeships, get in touch with our team of tech specialists.