Adam Pevie started his journey with Baltic Apprenticeships in August 2016 as a Level 3 IT Support Technician at Bondgate IT.
Bondgate IT is a Darlington-based technology partnership company that aims to identify and harness the right technology for its clients and their operational needs. They were looking for an IT apprentice to help rejuvenate the business, increase productivity, and add a fresh perspective to the team.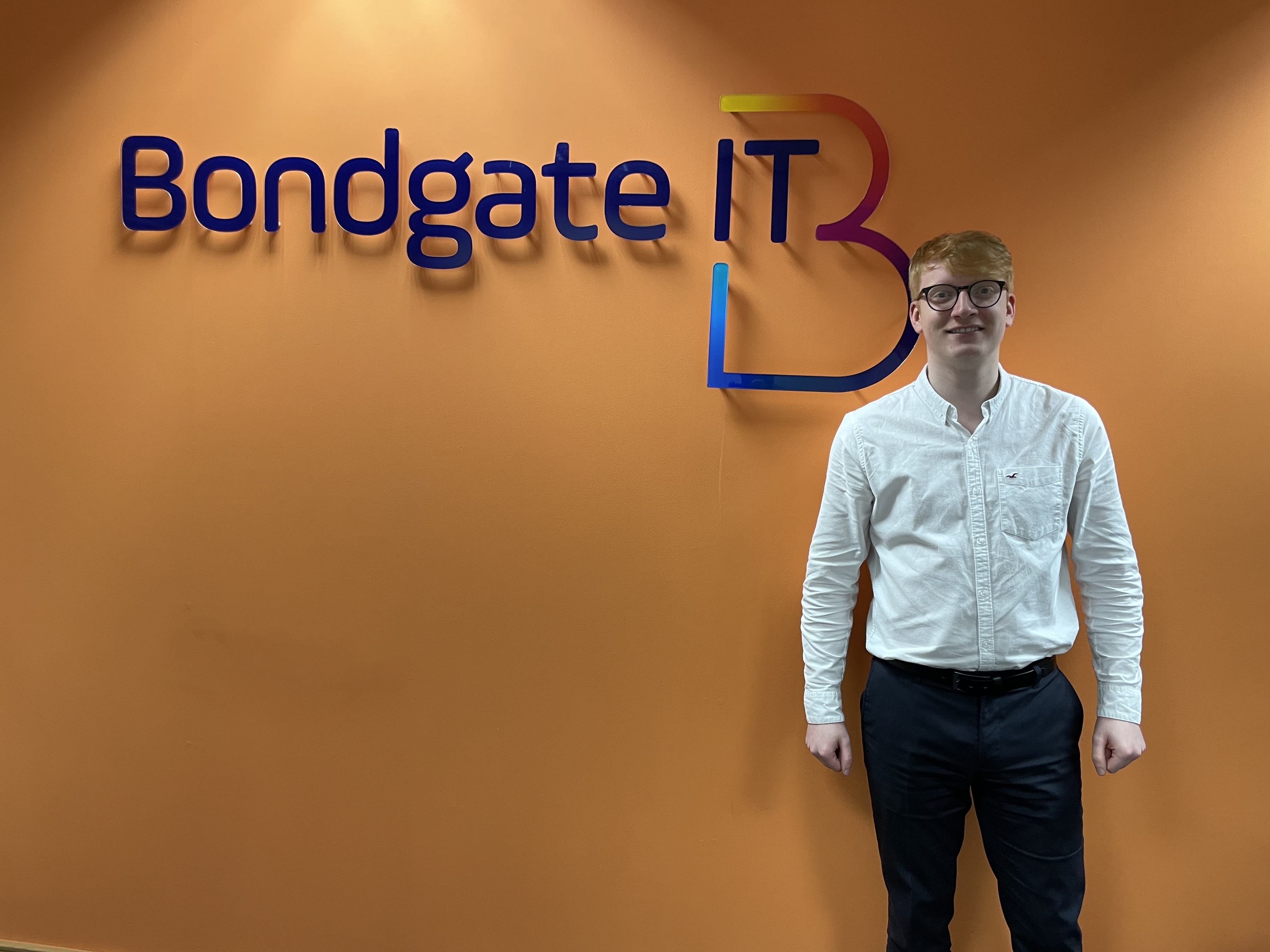 What started as a completely new venture for Adam, ended up unlocking his professional calling. Fast forward to 2023, Adam is now a successful Technical Support Team Manager who has gone on to manage apprentices himself!
In this blog we will follow Adam's journey from Apprentice to Manager. He shares why he chose the Apprenticeship route over attending university, how his responsibilities have changed over time and why he would recommend an Apprenticeship programme to anyone interested in kickstarting their career in IT.
Q: Where did your apprenticeship journey start?
I have been at Bondgate IT now for six and a half years. Initially I began my journey as a Level 3 IT apprentice coming in with no previous experience at all. In fact, prior to this, the only work experience I had was working at McDonald's for a year! From the very first day of my Apprenticeship, I was doing technical work. This has been ongoing until moving into my new, current role as Technical Support Team Manager.
Q: What made you choose the Apprenticeship route?
University wasn't for me, personally I didn't want to get myself into all of the student debt. Another deciding factor for me was that, ultimately, finishing university with a degree doesn't guarantee you a job.
I think starting on a clean plate as an apprentice is far more effective as you learn the job from the get-go, instead of going to university and learning the generic bits. In my opinion, getting hands-on experience from day one is much more beneficial.
Q: What were your main responsibilities as an apprentice?
My main responsibilities as an apprentice were ticket logging, technical troubleshooting, consulting with my Apprenticeship mentor, and effectively just learning the ropes of the business.
Q: How did your responsibilities evolve over time?
After completing my Level 3 IT Apprenticeship I moved straight onto the Level 4 Network Engineer Apprenticeship with Baltic Apprenticeships as well. Level 4 was more Network based so my technical skill set naturally developed over time. It took around three years to complete my Level 4 Apprenticeship and once I had finished that, I started going down the managerial route. I started looking after our first-line team, and then next thing you know – more apprentices were onboarded! It was a full circle moment for me, I supported them with their Apprenticeship work and acted as their work-place mentor.
Q: What was it that made you choose Baltic Apprenticeships?
Baltic Apprenticeship's Head of IT Routeway, Codie Foster, introduced me to the idea of taking on an IT Apprenticeship. It's a funny story, Codie knew my mum and helped me look for a suitable IT Apprenticeship position while I was still in Sixth Form. So I have Codie to thank as she planted the seed.
After discussing IT Apprenticeships with Codie, I researched what I would be doing daily as an apprentice and what qualification I would achieve upon completion. It felt like the right route for me to take, so I guess that's where my journey started. I made some great professional relationships with the staff at Baltic and I knew I was in good hands, so once I had finished my Level 3, I progressed onto a Level 4 Apprenticeship.
Q: How was the journey progressing from Level 3 Apprenticeship to a Level 4 Apprenticeship?
It was challenging, it is like going from first year in Sixth Form to your second year – it really does require you to step up your skillset. The team at Baltic made the transition period from Level 3 to Level 4 an easy process for me. My Apprenticeship training was carried out remotely via the SMART Classroom which included a mix of independent working and group tasks which allowed me to interact with other apprentices on my same programme. The mentors were all really supportive and all of these online classes were recorded so that if ever needed to go over something it was easily accessible.
Q: Looking back at your journey, how did an apprenticeship help you get to where you are now?
My Apprenticeship definitely gave me the experience needed from the get-go. I think it is difficult to enter a technical job with little to no experience without an Apprenticeship – I recommend them to anyone that wants to enter the Tech industry, to be honest. Ultimately, without my Apprenticeship I definitely would not be where I am today.
Recently I have been researching managerial courses. I really want to continue my professional and personal development now that my Apprenticeship has ended!
Q: Looking to the future, what's next for you?
I have recently been promoted to Technical Support Team Manager and I am very happy with my new role. I am looking after our first, second, and third-line teams now.
This is the route I have always wanted to progress down, so at the moment I want to focus on my current role and continue developing personally and professionally through self-development work and courses. I want my skill set to be as advanced as possible to ensure I am doing the best job I can.
Beyond my role, I want to build relationships with other Technical Support Managers from different companies and learn from my peers. I really look up to my 'big boss' and in the future, I aspire to be a Managing Director.
Q: Would you recommend the apprenticeship route to other people interested in a career in IT?
Yes. Yes without a doubt! The thing with Apprenticeships is – if you put in the hard work, you will go places!
I am not knocking degrees at all – but if I was interviewing for a job I would rather hire a new apprentice over a university graduate. Apprenticeships allow you to learn on the job and learn the things you can apply in real life, whereas university teaches you things in theory. You cannot apply the things you have learnt straight away in the workplace. When you're working in a place like Bondage IT it is important that you can apply your IT knowledge.
FIND OUT MORE:
If you'd like to learn more about Baltic Apprenticeships' IT programmes, you can search for current vacancies in your area or browse our programme outlines here: