Our annual Employer of the Year award celebrates the ways our employers embed apprenticeships into their culture and showcases the outstanding support they provide to their apprentices every day.
We received some incredible nominations this year, but there can only be one winner!
Our 2022 Employer of the Year is Resolve. This Sheffield-based IT support provider has an exceptional track record of nurturing outstanding apprentices with Baltic, including Elliot Hulbert, who submitted this nomination alongside his manager Jared Crawshaw.
Here are just a few reasons why Resolve is Baltic Apprenticeships' 2022 Employer of the Year:
A Supportive Learning Culture
The positive culture around learning and development was woven throughout Resolve's nomination.
The apprenticeship programme anchors every aspect of the Resolve experience; their office includes a dedicated room for study and exams, and learners are given ringfenced time each week for professional development projects.
"Resolve gave me dedicated time each week to study my course and develop my portfolio," said Helpdesk Technician Apprentice, Elliot. "I've been encouraged to push myself and have improved on my personal skills such as communication and critical thinking, as well as my technical skills which I had virtually none of before my apprenticeship."
According to manager Jared, "Resolve are a great believer in a good work/life balance, so we prioritise studying during working hours. Our apprentices' progression is just as important to us as it is to them; if they were ever to fall behind, we would extend their personal development time. If they're up to date, they utilise this time as personal development to upskill in the technical areas they're studying."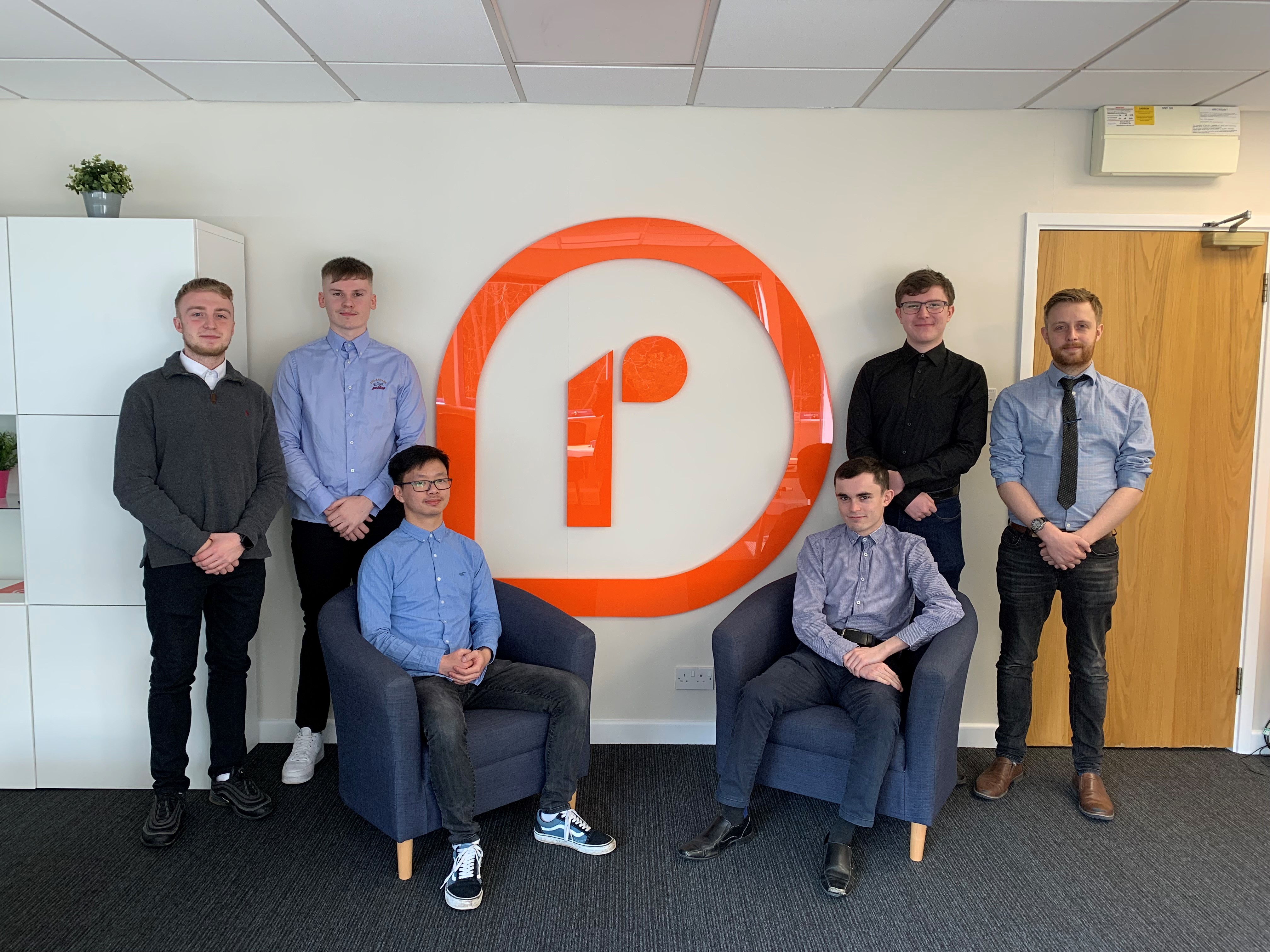 Resolve IT Apprentices Past and Present: Will Roberts, Oliver Rowan, Yan Lei, Elliot Hulbert, Charlie Timms with Team Leader Jared Crawshaw.
Proactive Skills Development
This focus on professional development isn't limited to the study room, however. At Resolve, work is often allocated to their IT apprentices based on the learning value of the IT support ticket, with plenty of scope for new challenges:
"I had to gather evidence for my portfolio," said Elliot. "So, they picked out tickets for me to tackle which were good for evidence taking."
"We get such a range of tickets due to us having 100+ unique SME customers, which allows the apprentices to upskill technically very quickly," said Jared. "There's nothing they're not exposed to. We also encourage our apprentices to dip their feet in the deep end and task them with some harder tickets. Of course, we don't leave them to do these on their own, but we give them the opportunity to start these tasks and explore their own troubleshooting steps before we offer help."
"Having so many previous apprentices enables us to guide future ones very easily, and pick out technical work that we know is beneficial for them down the line," he explains. "The Helpdesk is such a supportive team, we never let one person struggle. I think this "one ship" attitude really helps our junior apprentices."
"I'm exposed to a great variety of tickets and work," confirmed Elliot. "I'm not just stuck doing password resets and I've been given the chance to go out on site and interact with clients face to face, which is quite refreshing considering the job is almost entirely remote."
Although technical skills are the driving force behind any IT company, Resolve place an equal emphasis on soft and transferrable skills with their apprentices.
As Jared explains: "Our apprentices learn to be part of a team, and what that means. Everybody is a working cog responsible for the team's success. So, communication is a very important skill that we begin training them on from day one."
For Elliot, these soft skills are built into the role: "I've developed a lot of skills since joining Resolve which I've needed to complete my work duties. One such skill is communication. I work on a helpdesk as part of a team. The work is very reactive, and we often need to discuss notes or check things with colleagues, so I've learned how to effectively communicate with the team to avoid confusion and delays.
"Another skill would be critical thinking. As part of my role on the helpdesk, I'm learning how to troubleshoot issues people have with their computers. There's never always a black and white answer, so I've slowly learned how to troubleshoot, test certain things, and use my initiative to deduce what could be causing the issue."
Outstanding Team Support
At the heart of Resolve's success with their apprentices is their personal, people-first approach to work.
According to Elliot, he receives support from every member of the team: "Resolve cater to my needs and my manager Jared speaks to me on a one-to-one basis very often to make sure I'm happy working here and that I'm not under any stress or pressure that I'm keeping to myself. I'm given plenty of responsibility to carry out work that can sometimes be a little above me and my colleagues are very supportive if I do need to escalate a ticket. They'll take time out of their days to sit with me, tutor me and help me close tickets I struggle with."
As Jared explains: "Resolve is very supportive – that includes every member of staff in every department. From technical staff to the directors, admin and sales, everyone wants to help each other out."
Proven Career Progression
The effect of this supportive culture is that Resolve's apprentices continue to grow and develop within the business, staying on to mentor future generations of Baltic apprentices.
"Resolve have taken on apprentices in the past," said Elliot. "I was given plenty of opportunities to chat to these apprentices who are also my work colleagues to discuss their apprenticeships and to hear their advice on my own apprenticeship."
For Jared, managing his apprentices and witnessing their transformation is a highly rewarding part of his role.
"Often apprentices are shy and nervous when they start, but by the end of the apprenticeship they are successful and confident engineers," he said. "As the manager of the team that primarily has the apprentices, I just want to say it's my favourite part of the job. I love watching them develop and progress through Resolve, and I can't wait for the next ones this year!"
Reaction to the Award:
We got in touch with Jared to let him know the good news. Here's what he had to say:
"It's incredibly gratifying to have won the Employer of the Year Award for our work with apprentices, especially to receive it from such a great organisation we work closely with. Apprentices are a key part of my team. They help answer the phone, build new equipment, and provide excellent customer service and technical support to our wonderful customers.
"Some of the best job satisfaction I get at Resolve is watching my apprentices progress through the ranks and go on to new and exciting roles within the company. Just a small example is Oliver becoming an awesome Account Manager, Will becoming an amazing Project Engineer, Joe becoming a great Helpdesk Engineer, and more!
"I'm very proud of our work with apprentices and even prouder of the apprentices themselves, so to win this award puts a big smile on my face, and on many other faces within Resolve.
"To any young people reading this, who may be considering an apprenticeship – do it. Getting ahead in your career path whilst earning and learning is an absolute no brainer."
Read more: for more Baltic success stories, browse our range of Case Studies