Baltic Apprenticeships have been recognised for our commitment to staff development with Gold Membership of The 5% Club.
Earlier this year, we were one of 73 employers who took part in the first ever employer audit from The 5% Club, alongside big names including Aldi, BT, Coca-Cola, GSK, Lidl, PwC and Siemens.
We're proud to reveal that Baltic topped the audit's SME leader board for 2021, with 51 out of 196 people enrolled on apprenticeships, graduate schemes, and other work-based training programmes.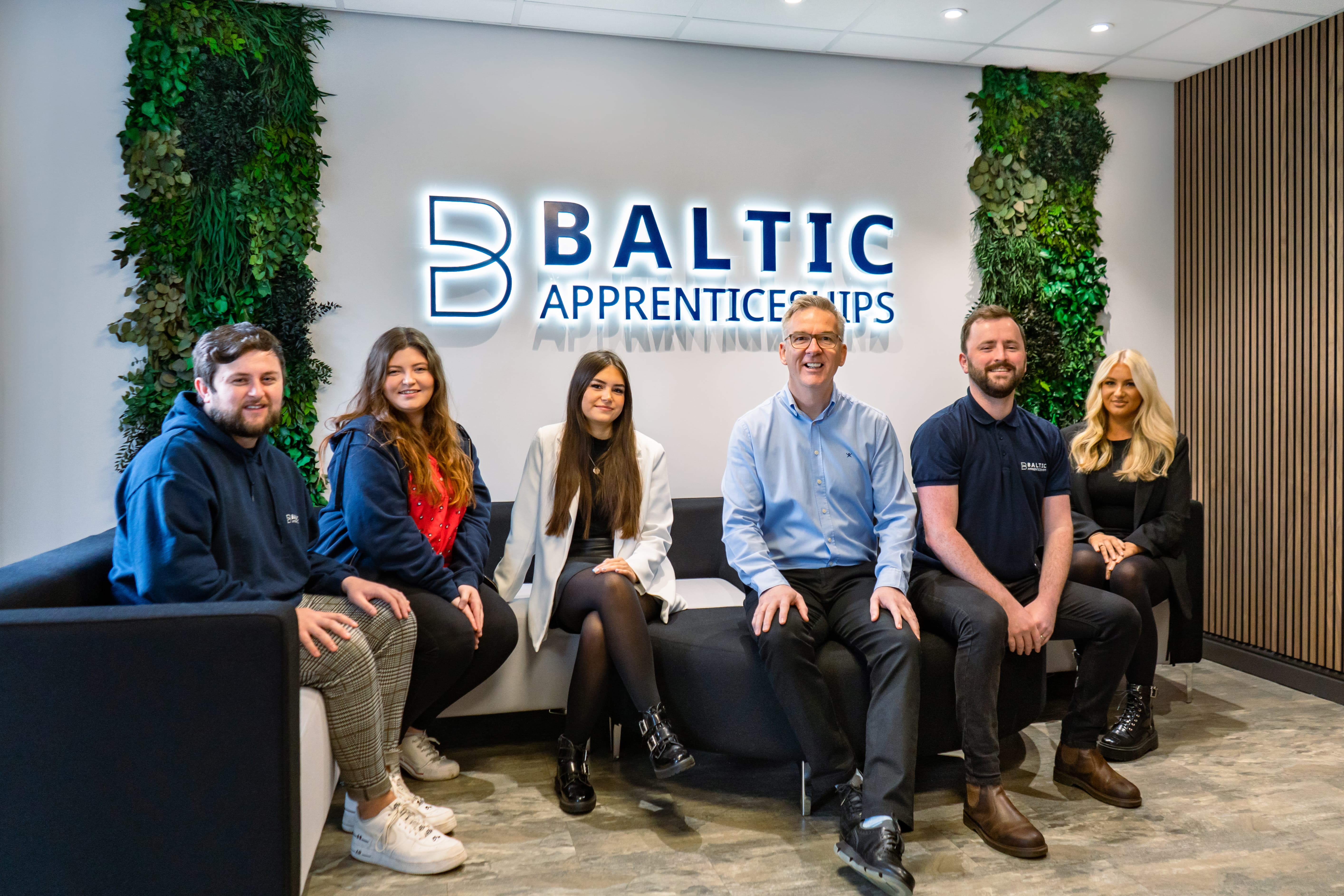 Image: Managing Director Tony Hobbs celebrates with People & Culture Manager and 'Earn and Learn' colleagues studying education and digital marketing programmes.
What is The 5% Club?
The 5% Club represents over 600 organisations and 1.2 million employees. Employers joining the club make a commitment to invest in 5% of their workforce through apprenticeships, graduate schemes, and other 'earn and learn' opportunities within five years of joining.
What ARE BALTIC DOING FOR STAFF DEVELOPMENT?
At Baltic, we have smashed this target in our first year of membership, with 26% of our team currently working in an earn and learn role.
At the time of the audit, Baltic employed 25 apprentices, 19 graduates, and 7 colleagues enrolled on other earn and learn programmes. This is out of a total of 196 people.
Tony Hobbs, Managing Director at Baltic Apprenticeships said: "We are thrilled to have been awarded Gold Membership with The 5% Club. This achievement belongs to everyone at Baltic Apprenticeships. It represents our passion and collective advocacy for apprenticeships, skills development, and social mobility."
Matt Welch, People & Culture Manager, added: "In a year like no other, we have doubled our team and tripled the number of colleagues enrolled on a qualifying earn and learn programme.
"Our Grow Our Own strategy is the cornerstone of this achievement, with over a quarter of our workforce building their skills across a range of disciplines, including data, IT, marketing, education, HR, finance, compliance and auditing."
What's Next for The 5% Club?
Mark Cameron OBE, Chief Executive at The 5% Club said: "We set out to create a scheme that recognises the efforts of all those employers who invest in their workforce through a broad range of workplace learning schemes. It is fantastic that in these challenging times so many are able to commit to the Employer Audit and to gain the credit for their efforts, and that the majority are striving to expand their schemes over the coming years. Their efforts and achievements are to be applauded."
Gill Cronin, Director of Operations at The 5% Club added: "Having seen the Club grow to more than 600 members, I am always impressed at the commitment, drive and energy our members channel into offering 'earn and learn' skills opportunities. To now see so many of these members gain bronze, silver and gold accredited membership of The Club is inspiring and demonstrates how these companies are all contributing to the future of skills in our economy."
What's Next for Baltic Apprenticeships?
As Baltic Apprenticeships continue to grow in 2021-22, we aim to increase our apprenticeship and graduate recruitment schemes throughout the coming year.
To get involved, watch our careers page for more information and new opportunities.