It's the time of the year again to celebrate an amazing apprentice with our 2022 Apprentice of the Year Award.
This year we received a huge number of incredible nominations for the award. It was clear to see that every nominee had gone above and beyond in their apprenticeship, making this year's decision very tough!
However, there was one nomination that stood out from the crowd due to the significant impact this apprentice has made beyond her immediate team, alongside the outstanding professional development she has shown.
Our Apprentice of the Year is Victoria Batley. Vicki is completing our Level 3 Junior Data Analyst apprenticeship with the North West Ambulance Service NHS Trust. She is based within the Estates Team and has played an important role in championing the ambulance service's sustainability initiatives using a data-driven approach.
We caught up with Karen Aguilera, Victoria's line manager and Environmental Sustainability Officer, who gave us an insight into Vicki's outstanding development during her apprenticeship.
Vicki's Key Achievements
According to Karen, Vicki's contribution to the team has been nothing short of transformational:
"Vicki's biggest achievement to date is transforming how our energy data is collated, stored, and reported upon," she said. "From previously being a manual, time-consuming data entry task with little in the way of validation, verification or completeness checks, Vicki has worked with the team at Sigma to create bespoke reporting based on the needs of the Trust."
"She has set up algorithms to automatically check the data for any extreme variations in cost and consumption and created a report to highlight any gaps in the data. To reduce time spent manually entering data from the bills and remove user errors she has set up EDI billing with our major providers."
It's great to see Vicki use her initiative to set up algorithms, which ultimately leads to the organisation operating more effectively.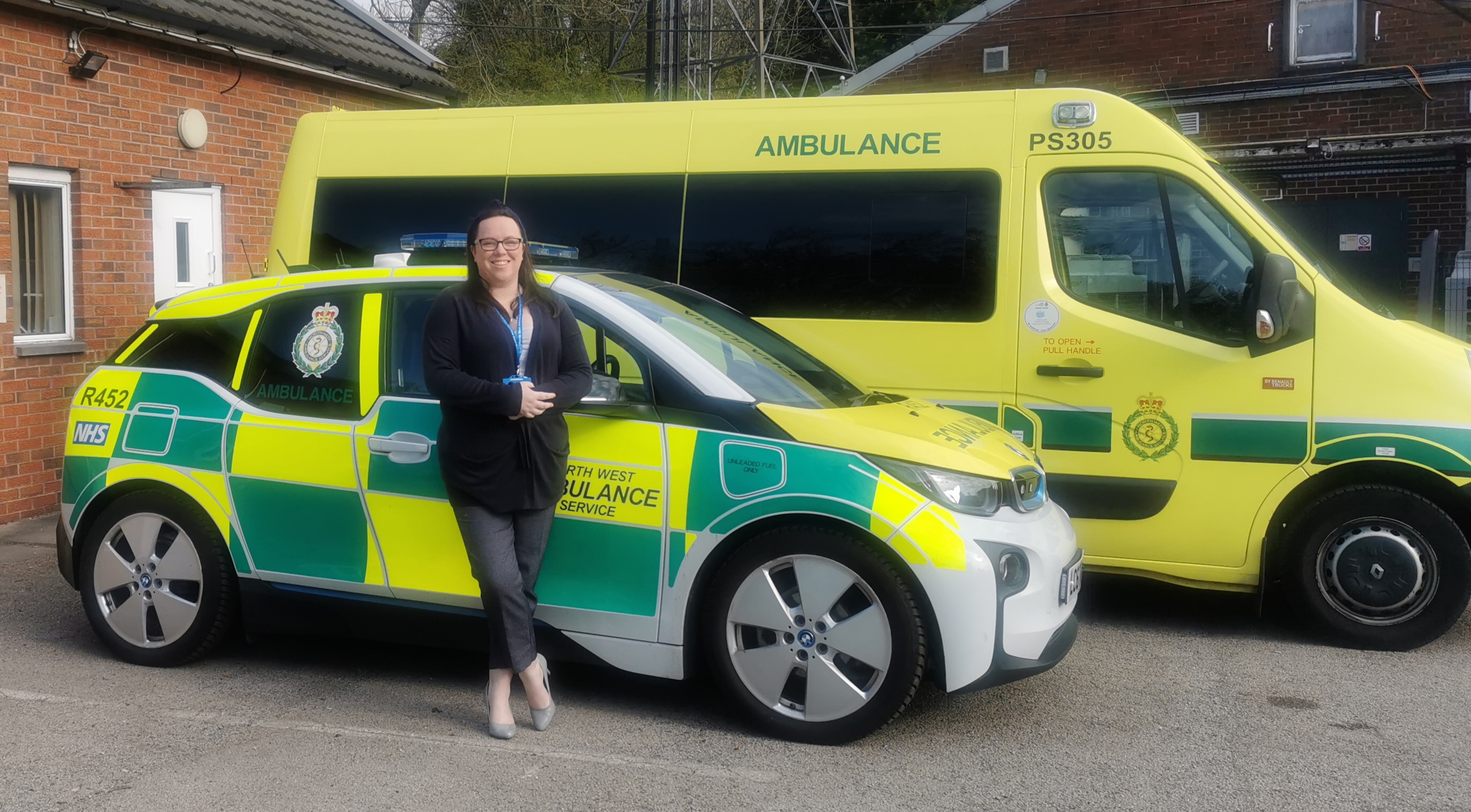 Apprentice of the Year 2022: Victoria Batley of North West Ambulance Service NHS Trust.
Personal & Professional Development
Throughout the apprenticeship, Vicki has grown in both confidence and technical ability, resulting in more accurate data resources which she also interprets and presents for her colleagues.
"She has developed a good understanding of what value the data she collates has, not only for her immediate colleagues but the wider Estates Team and Trust," said Karen. "She now actively looks for new ways she can use the data available to highlight areas of the estate that would most benefit from energy efficiency improvements. "
Vicki has built on her technical training courses from Baltic to truly thrive within her role and workplace: "The knowledge she has gained from the SMART Classroom combined with the passion for the role, the wider ambulance service, and data is reflected in the high standard of work she submits and her attention to detail."
In terms of personal development, we were highly impressed by her above-and-beyond attitude and willingness to take on activities at more senior levels. According to Karen, "she has proven that she has been able to push out of her comfort zone by delivering training to her peers, despite not previously having the training herself. She has worked under pressure to incredibly tight deadlines and over the past month has completed data submissions usually submitted by much higher pay bands."
Vicki's Impact on the Team and the Environment
Karen explained the immense impact Victoria has had on biodiversity and sustainability in her role so far:
"Vicki has led a project to improve the green space and biodiversity available to staff at our stations and corporate sites. 40 trees across 24 sites have been planted by staff to celebrate the Queen's Platinum Jubilee. In addition to the allocation and distribution of the trees, Vicki has created planting guidance documents, highlighted the health benefits of the trees and green space, and has attended sites to assist with planting, building relationships with other departments, and raising the profile of the Sustainability Team.
"She has also calculated a cost value for the ecosystem services that the trees provide so colleagues with no environmental knowledge understand the benefits greenspaces have in our estate."
Within the first month of her apprenticeship, Vicki delivered Carbon Literacy training to senior members of staff, creating awareness of the NHS Net Zero Targets and how global warming will impact on the Ambulance Service. She guided colleagues in making pledges to make the ambulance service more environmentally friendly, including investing in an electric fleet.
"Vicki has played an instrumental part in the introduction of cloud databases and the use of algorithms to automate the processing of utility invoices for all NWAS sites," explained Karen. "This has resulted in more accurate and readily available data on the cost and consumption of our energy. Vicki highlighted areas where introducing an accounts link into the database would streamline invoice payments and save time costs. Vicki has shared her reports and data visualisations with other departments to assist with budgeting and forecasting in the next financial year."
Karen also shared additional examples of how Victoria's data skills have improved productivity, saved the Trust money, and reduced their carbon footprint:
"Vicki has worked with Team Energy to create bespoke reports to highlight which sites cost the most to run per M² to give a direct comparison on cost and consumption per site," she said. "This will help highlight which sites could be most suitable for future funding bids and capital investment. Vicki also collated data relating to waste compliance into a central spreadsheet allowing easier monitoring of our sites and when the next audits are due."
Through this mix of hard data and communication, Vicki has created positive changes across her organisation, and for future generations.
Reaction to the award
We caught up with Vicki to let her know the good news, here's what she had to say:
"I'm thrilled to have received the Apprentice of the Year award and so thankful to the team at Baltic for choosing my nomination. I joined NWAS following redundancy with a previous employer and couldn't have asked for a better start to my time within the Sustainability Team. I'm lucky to be part of a dedicated team who have not only supported and pushed me, but trusted and encouraged me to complete tasks I didn't think I'd be doing within an apprenticeship role. I'm looking forward to the challenges ahead and being able to use the skills I've developed with Baltic to ensure our data benefits the Trust."
Lisa Hill, Widening Access Development Manager said:
"Apprenticeships have increased the visibility of all careers in the Ambulance Service even those which have historically been graduate entry. Our apprenticeship model has helped our organisation plan our workforce more effectively as well as enabled a more regulated approach to preparation for some of these roles.
"Seeing individual such as Victoria realise her potential using the Apprenticeship route is a proud moment for North West Ambulance Service NHS Trust, who pride themselves in developing their staff. A massive well deserved to Victoria as she has made such an impact in her role and to the service."
A message from vicki's Baltic Coach:
Alex Borthwick, Vicki's Coach at Baltic Apprenticeships had these words to share about working with her:
"Victoria is the apprentice we always hope for; determined to achieve her best, never afraid to ask questions, always on the lookout for chances to learn, and passionate about the work that she does. It is a pleasure to see her knowledge and skills progress throughout the apprenticeship and to see the impact this is having on her achievements within her job"
Congratulations again Vicki on this very well deserved award!
Nominate Your Apprentice for Our Apprentice of The Month Award
At Baltic, we love to share the amazing achievements of our learners! If your apprentice is going above and beyond, we would love to hear their individual success story.
To nominate your apprentice for our monthly recognition award, please send us around 200 words to nominations@balticapprenticeships.com, or stay tuned for next month's winner!
Nominations are open until the 23rd of each month. Any nominations we receive after this date will be considered for the next award.