Welcome to 2022! The new year has brought a whole host of new Apprentice of the Month nominees who have all been excelling in their apprenticeships.
Apprentice of the Month
Our Apprentice of the Month Winner is Jessica Blake. Jessica is currently doing her Level 3 Software Development Apprenticeship at Blue Crystal Solutions. Jessica was nominated by Operations Director, Ryan Shaw, who shared how much of an impact Jessica has had at Blue Crystal Solutions:
"Jess has developed her software development skills considerably since starting the apprenticeship. Not only has she become a valued member of the development team, but she also has a passion for development and will happily work through her tasks set for the course as well as working on the commercial side for us.
"At the start of the apprenticeship, Jess was set a task of creating a new CRM system for the business to replace the old system. This system would be the backbone of the support team, so it had to have a customer database, a support ticket logger and be able to tie all of this in with the recorded phone call files. This was done and delivered to an impressive standard 3 months earlier than expected!
"The efficiency isn't the most impressive part: the project was very much a chance for Jess to experiment and learn the ropes, however she worked flawlessly with our new Junior Developer on the project which is a key characteristic we look for in our developers and is probably the aspect we are most pleased with.
"Jess has also shown she can take constructive feedback and turn it into solutions as the CRM system has had feature updates that have made the support team happy. She is now working on the main project the whole development team are focused on and has integrated with them seamlessly, we are very impressed."
Amazing work Jessica!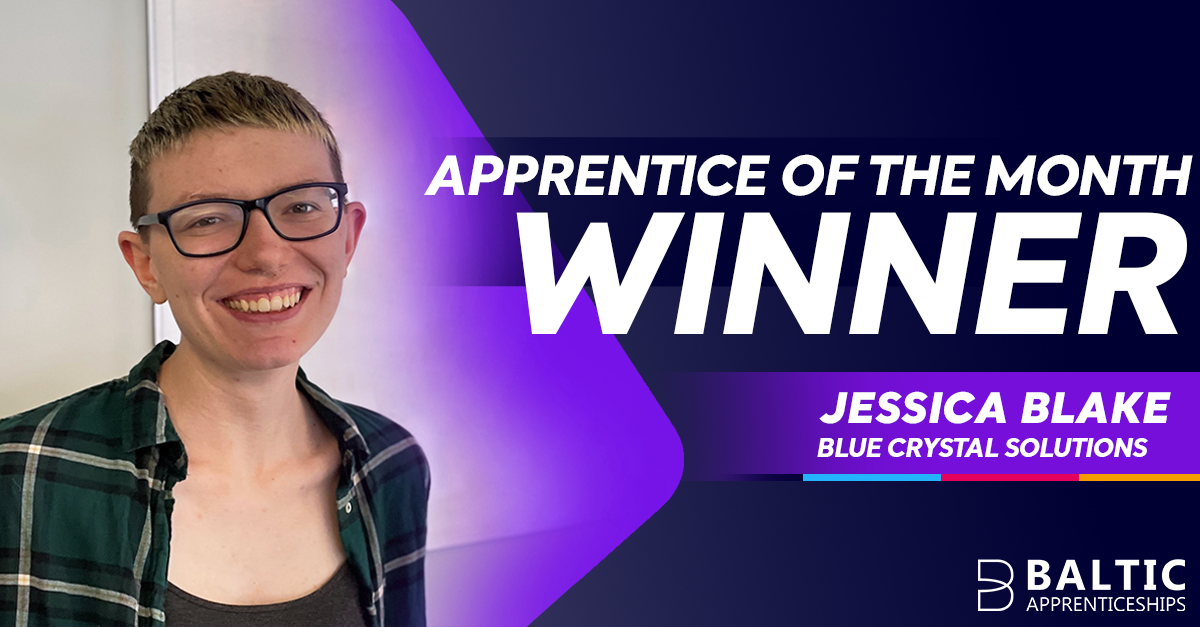 Stand out nominees
This month we received an incredible number of stand-out nominations! So, without any further ado, here are 10 amazing apprentices, who all deserve to be recognised for their achievements:
ABBIE ROBERTSON, HTI TOYS
"Abbie joined our Marketing team earlier this year after successfully completing her work experience as part of the Product Team. Over the months, we have been delighted to see Abbie flourish in her new role and her confidence has grown tremendously. Abbie has worked her socks off, building working relationships with local councils and models' parents, and has planned over 30 shoot dates for hundreds of products, alongside working on her apprenticeship and other daily tasks. Abbie has now also taken over our social media platforms and plans some brilliant content for these each month, bringing new and exciting ideas to the table during planning meetings."
ANDREW EICHMANN, APRIS CENTRAL SERVICES
"Andrew has managed to work around a very hectic work schedule to continue his learning within the office, at our remote locations and at home. He has picked up a lot of new skills that will prove invaluable in the last few weeks and despite some challenges he has faced it hasn't stopped him also providing a high level of support to everyone across our wider team and to the people we support who are adapting to a brand-new way of working. He is dependable and has started using what he is learning to produce documentation alongside his other day to day duties to help the rest of the team in using the new network infrastructure we are implementing."
CHARLOTTE ENGLAND, FINESSE DIGITAL
"When we made the decision to take on a Digital Marketing apprentice, we had certain expectations of the eventual success of a candidate and put together an initial plan in accordance with these. It is fair to say Charley has completely surpassed these expectations in a relatively short space of time, and her progress continues to impress. She is already an integral member of our team, taking responsibility for certain client projects, and offering invaluable support and input on others. She is professional in outlook, possesses excellent initiative, and asks all the right questions. She picks up new skills quickly and undertakes her own independent research to help her complement and enhance these newfound skills further. "
ETHAN HUME, WALTBOTTLE ACADEMY
"As Ethan had successfully completed a Level 3 apprenticeship with Baltic previously, he knew the commitment it would take to complete the next level. As soon as he was signed up, he got straight on with his independent learning and has not stopped since. He uses all his free time to build up learning hours, showing real dedication to the course. He has proved himself as a great team player and has taken a real lead in the office. Often working independently, he is effectively managing the IT Support of the whole school with ease. He speaks with students, staff and senior leaders confidently. He has a good skill set that he is building on and can adapt when problems arise. Ethan is really keen to learn new technologies and always asks to do more, he is a great colleague and has a bright future in IT ahead of him."
MEGAN FAWCETT, YORKSHIRE PRODUCTS
"Megan has been an integral 'pillar' of the marketing team since she joined our team at the height of the pandemic whilst we were undergoing huge changes, including bouncing back from our toughest year in 2019. Megan has been a continuous source of great energy, team spirit, creativity and out-the-box thinking throughout and has taken every challenge as an opportunity to grow and excel – and 2021 was FULL of challenges! With Megan's success with us in 2021, we will be confidently trusting her with the account management of our biggest brand into 2022 and we're excited to see what she will continue to bring to the table!"
MICHAEL ROBINSON, EXCEL TECHNOLOGY GROUP
"Mike attacks any task with a positive "Can Do" attitude and repeatedly achieves great results. Mike is not always the most confident in his own abilities but despite this, he continually sets out to achieve the very best he can. Following last week's course, Mike immediately got to test the knowledge he had obtained as a colleague encountered a similar issue to one Mike experienced on the course. Mike is such a great colleague to work with as he is always positive, full of ideas, and is willing to share them. Mike's creative flair is a real bonus that couples well with his ever-growing technical knowledge and provides us with a well-rounded team player."
NATALIE MOSCROP, MARKET ME
"Natalie started at Market Me on 1st June, and she has done amazing and has put in the time and effort to learn all the different products we offer to our clients. Not only has she given this amount of effort to her new role, but Natalie has also passed all her apprenticeship exams with Baltic with flying colours averaging a 98.5% pass rate. Natalie is already way above an apprentice level and doing jobs I'd expect a member of staff to do who has been working with us for many years and she is an invaluable asset to the team. Everyone in the team can only give positive feedback to Natalie and I can't praise her enough, she has been outstanding since the day she joined and has an amazing personality and work ethic."
NATHAN EAGER, KAEFER
"Nathan has been an absolutely fantastic addition to the department. He has drive, determination and brings a creative approach to all tasks he's given. It's very easy to forget at times that Nathan is just 16 and a few short months ago he was still at school. He is a pleasure to work with and is thriving at KAEFER – we couldn't be prouder of what he's achieved so far and look forward to watching him develop throughout his apprenticeship and beyond. "
ROHAN MORAN, KALAMAZOO IT
"Rohan has joined a department that hadn't worked with an apprentice for as long as anyone can remember, and he has proven to be an effective and proactive part of the team. He has now become a trusted part of a team and goes out of his way to assist his colleagues. Although he still has seven months until he completes his apprenticeship, we are now starting his move into a front-line role and open the doors to one of his passions in cyber security. I have every confidence that he will grow within the company and become a full-time member of the staff and in recognition of his performance within the company we will now take on a new apprentice who will hopefully join us in 2022."
SARAH SHARPLESS, SOLWISE
"Sarah joined Solwise in June 2021 as a Digital Marketing Apprentice and very quickly became a much-valued member of the team. I wanted to nominate Sarah for this award for her hard work for a particular campaign that she created, saw through and was successful with and this is the #SolwiseAdvent that has gone on throughout December. A video has been posted on our socials and our website each day introducing customers to our team and our product range. We have high hopes for Sarah and we are very proud of how well she has done thus far with her apprenticeship, the hard work she has put in is really paying dividends for her."
nominate your apprentice
That's all folks!
We'll be taking a short break while we run the nominations for our coveted Apprentice and Employer of the Year awards. Please watch this space (or our Twitter, Facebook and LinkedIn accounts) for more information shortly.