AIR (2023) hit Amazon Prime last month, and with a 98% Rotten Tomatoes audience score – it's definitely one to add to your watch list.
The film's success should come as no surprise, as we enter a contemporary film era that focuses on products and the creative process that led them to exist.
Following the success of The Social Network (2010), other filmmakers have started to adopt a similar narrative, dramatising the creation, marketing, and sales of products consumers are already familiar with. Think: Villain Origin Story but for real products.
AIR is another example of this; the film follows basketball talent scout turned Sports Marketing Executive Sonny Vaccaro, as he attempts to save Nike's dying basketball division with a partnership deal with then-up-and-coming Michael Jordan. Vaccaro pitches the 'Air Jordan 1' – a new basketball shoe, designed and marketed entirely around the rookie Chicago Bulls player.
Spoiler Alert: Nike gain the partnership with Jordan, and together they make (arguably) one of the most iconic athletic collaborations in sports history. But let's face it – you didn't need to see the film to know that. Nike is synonymous with Air Jordans!
LESSON 1: INSPIRATION CAN COME FROM ANYWHERE
Yes, you heard me… anywhere!
Nike's iconic 'Just Do It' slogan first appeared in 1988. It appeared in their first major television campaign, and it has since been echoed by thousands of voices across the world.
The slogan mirrors Nike's brand persona perfectly, as it is equal parts inspiring and direct: If you want to do something, Just Do It. No excuses. The brand champions hard work, and in return promises high rewards.
AIR gives us a new take on the sports brand's inspirational slogan. The film touches on the darker origins of Nike's iconic 'Just Do It' slogan, as it had reportedly come from a convict on Death Row.
We know this is an extreme case, but it is a fantastic example of inspiration coming from an unexpected source. This is why it is crucial to always listen with open ears – as inspiration really can come from anywhere!
Your next successful marketing campaign could come from your apprentice, your marketing team, a different department, customers, or the news.
LESSON 2: COLLABORATE WITH YOUR WIDER TEAMS
Vaccaro knew to get Jordan on board, Nike needed to create something no one had seen before. Vaccaro made sure to plan regular meetings with creative director Peter Moore and co-founder Phil Knight to create a mock-up of the Air Jordan 1.
Although Vaccaro was a talent scout, he was actively involved in the creative process with Moore and Knight. They shared relevant information, resources, and insights, and worked together to create the first-ever pair of Air Jordans.
Cross-department collaboration is paramount to a company's overall success. It has been reported that 86% of employees in leadership positions blame lack of collaboration as the top reason for workplace failures!
This is especially true for marketing, where witnessing the start-to-end process of a product ensures you and your wider marketing team are clear on the benefits for the consumer, the target audience, and the buyer persona, and you can undertake appropriate competitor research and analysis.
LESSON 3: DON'T REINVENT THE WHEEL, JUST RE-ALIGN IT
Co-founder of Nike, Phil Knight, (well, Ben Affleck) said "you're remembered for the rules you break."
This is true for Air Jordans, whose rebellious nature will be remembered for single-handedly changing basketball culture forever. In 1985, Vaccaro and Moore took the blueprint for a basketball shoe and created something no one had seen on the court before.
As per the National Basketball Association (NBA) rules, basketball shoes were required to be 51% black or white. Vaccaro and Moore threw the rule book out of the window and the Air Jordan 1 featured a majority red colourway, to match the Chicago Bull's team colour.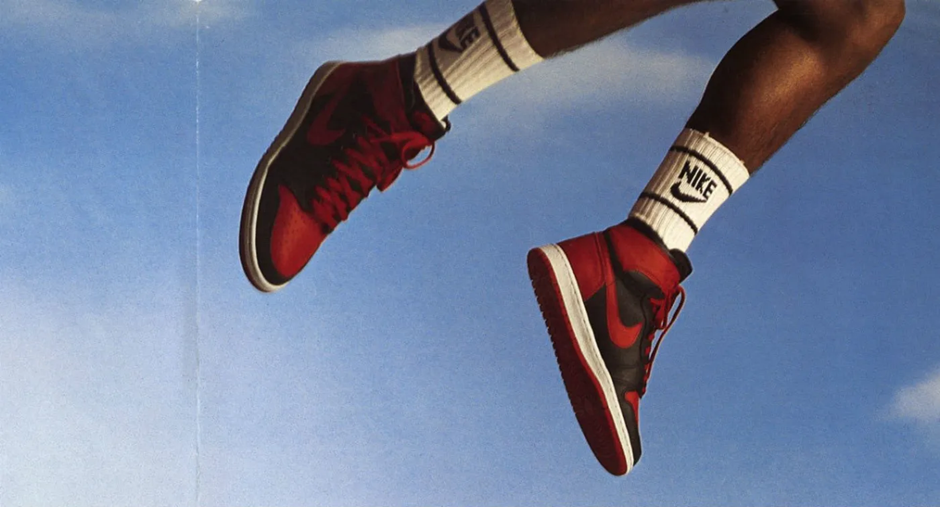 (Image via. Nike.)
The NBA heard about Nike's newest basketball shoe and threatened to fine Michael $5,000 for each game he wore the Air Jordans. Nike offered to pay each fine he was issued as an act of rebellion against the rigid establishment.
Together, Nike and Jordan were rebelling against the status quo. Their shoe was dubbed as 'banned' which only increased their appeal – this was the best advertisement Nike could ask for. Nike's marketing team jumped on this, and their marketing campaigns reflected Air Jordan's rebellious core.
The marketing lesson here? Look at your competitors, and ask yourself: what are they doing well? What are they doing poorly? Adopt the blueprint of something successful but make it unique to your company and true to the core of your brand.
LESSON 4: A PRODUCT IS ALWAYS JUST A PRODUCT UNTIL SOMEONE BRANDS IT
In AIR's instance, the product is a shoe. Vaccaro makes it clear that without the partnership with Jordan, the shoe loses all its meaning.
For the consumer, the shoe allows them to embody their basketball hero. The shoes represent Nike's rebellion, but equally represent Jordan's struggle, hard work, and technical skill. The sneakers give the consumer a narrative to identify with, root for, sympathise with, or aspire to recreate.
This process can be applied to any product or service. You can brand almost anything, in any way you find appropriate. In marketing, branding is everything! An example of this (beyond the film), is bottled water.
Task: Think of five different water companies and think about how their branding makes you feel. I'll go first.
Smart Water = Athletic.

Fiji Water = Clean.

Evian = Youthful.

Voss Water = Exclusive.

Highland Spring = Natural.
Yes, they may taste slightly different but, generally speaking, each company is selling the same clear liquid. The only real way to differentiate between these bottled water companies is how they brand themselves to consumers.
CONCLUSION
On 26th October 1984, Nike spent $2.5 million to acquire a partnership with Michael Jordan, when this hefty budget was designed to be split between three players. To recuperate, Nike aimed to make $3 million across 3 years… In just a year, Air Jordan's made Nike $126 million. Let this be a lesson to all marketers, if you have a marketing idea you truly believe in – Just Do It!
Ready to make marketing history? Our Digital Marketing apprenticeship programmes can help you create your very own Sonny Vaccaro, whether that's a new recruit or a current team member. We offer two Digital Marketing standards: